Spring Prayer
For flowers that bloom about your feet;
For tender grass, so fresh, so sweet;
For song of bird, and hum of bee;
For all things fair we hear or see,
Father in heaven, we thank thee!
For blue of stream and blue of sky;
For pleasant shade of branches high;
For fragrant air and cooling breeze;
For beauty of the blooming trees,
Father in heaven, we thank thee!
Ralph W. Emerson
---
St. Elizabeth of the Trinity - Newly Canonised Saint
In his homily for the canonization of St Elizabeth of the Trinity, Pope Francis spoke of the importance of our prayer life as Christians.
The saints are men and women who enter fully into the mystery of prayer. Men and women who struggle with prayer, letting the Holy Spirit pray and struggle in them. They struggle to the very end, with all their strength, and they triumph, but not by their own efforts: the Lord triumphs in them and with them. The seven witnesses who were canonized today also fought the good fight of faith and love by their prayers. That is why they remained firm in faith, with a generous and steadfast heart. Through their example and their intercession, may God also enable us to be men and women of prayer. May we cry out day and night to God, without losing heart. May we let the Holy Spirit pray in us, and may we support one another in prayer, in order to keep our arms raised, until Divine Mercy wins the victory.

See full text……….. HOMILY OF HIS HOLINESS POPE FRANCIS, St Peter's Square, Sunday, 16 October 2016
St Elizabeth was in the habit of asking those who asked her for prayers to meet her in the Holy Trinity at a particular hour. She explained that if you are praying to the Holy Trintiy and I am praying to the Holy Trinity then we shall meet there in the Holy Trinity. She set a time for her friends to meet her in the Holy Trinity and they would pray together.
---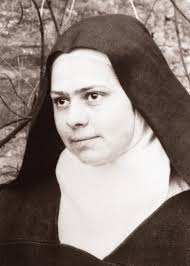 A contemporary of St Therese of the Child Jesus (The Little Flower) Elizabeth has not been widely known. However she is a new saint for the new millennium with a very powerful message, her awareness of God dwelling within us, really and truly present within each one of us. God is that close. When her mother told her she could only pray for short periods Elizabeth assured her that was all right and asked her to pray three times a day for five minutes each. That way Mrs Catez would recollect herself, and found it much easier to cope with the burdens of the day. In these days mindfulness is very much spoken about. When Elizabeth speaks of recollection she is bringing to mind that God is within and then going to the heart for a heart to heart encounter with her beloved Trinity.
---