Mary's Month
the Month of May 2021
On the 19th March, the Feast-day of Saint Joseph, Pope Francis honoured the Church in Ireland and the Irish people by declaring Knock an International Marian and Eucharistic Shrine. We are honoured because we are reminded of the place of Mary in our lives and of how she points us towards her Son who redeems and saves us.
It is an appropriate time to be reminded of what happened at Knock on the 21st August 1879. On that evening fifteen people aged between five years and seventy-five years witnessed the Apparition of Knock. The setting for the apparition was the gable end of the parish church. It lasted just over two hours in lashing rain. The small group prayed the rosary for the duration of the apparition.
Like so many of the known Apparitions of Our Lady, this one occurred at a time of great stress and hardship in Ireland. The famine had ended a few years before, but the people were still struggling.
The apparition consisted of the figure of the Blessed Virgin. On either side of her stood Saint Joseph and Saint John. Slightly in the background there was an altar on which stood 'The Lamb of God' with a cross. What was extraordinary about this Vision was the fact that these poor country people with simple faith and not much theological knowledge were able to identify the figures and understand what they stood for.
Mary, of course, was instantly recognisable – it was to Mary that these people had always turned in time of need. She was the central figure in this group. The other figures were closely related to her and to the Church. Saint Joseph, her spouse, was at her right hand. He was her protector and the foster father of her Son, Jesus.
Saint John, who was at Mary's left side, is the same John who stood with Mary by the Cross of Jesus. He represented us, the Church, and to him Jesus gave Mary to be our Mother – "Behold your Mother …… "
The figure of the Lamb represents Jesus, the Lamb of God, on the Altar, reminding us that we have been saved by His cross. The Altar is the Altar of Sacrifice and Eucharist, bidding us to come and worship.
Perhaps we can, in 2021, identify with to some extent with the people who witnessed the wonderful Apparition of 1879. Their time was a time of recovery from great suffering. Now, thankfully and hopefully, we are in a time of recovery and healing. It is our Faith too which will open our hearts to recognise among us the loving Mother who herself has known suffering and who draws us to her Son who overcame suffering and death, gives us Hope and assures us of new life. The prayer of the group gathered on that August night in 1879 was the Rosary. The prayer was simple and contemplative. The words were not construed or eloquent. It was as if the Holy Spirit put the words into their mouths (cf. Romans 8:26)
At Knock, as so often when Mary is shown to us, she speaks no words. Her loving, compassionate presence is eloquent enough. Pope Francis, in his message to us last month says "yet her silence is a language; indeed, it is the most expressive language we have. The message that comes from Knock is that of the great value of silence for our faith".
It is significant for us that St Joseph is at Mary's side, her protector and the patron of the Church. This year (2021) is especially dedicated to St Joseph. As we identify with the villagers of nineteenth century Knock we can also put our trust in St Joseph to lovingly protect us. St John, the Apostle is our model as child of Mary, faithful disciple and of closeness to the Lord.
Pope Francis suggests that we might respond to the honour of having an International Sanctuary of Eucharistic and Marian Devotion in Ireland by opening our arms in welcome "to every pilgrim who may arrive from any part of the world".
"May this welcome be joined with charity and become an effective witness to a heart which is open to receiving the Word of God and the grace of the Holy Spirit which gives us strength".
Good Shepherd Sunday
Welcome to the Carmelite Monastery of the Immaculate Conception
Roebuck, Dublin 14 D14 T1H9
We are a community of Carmelite Sisters called by God, to live a life of prayer for the Church and for the world.
Our Rule tells us to 'meditate day and night on the law of the Lord'. In other words to ponder the scriptures as we go about our daily tasks.

The heart of our day is the celebration of the Eucharist and we say the full Divine Office. We also spend two hours in personal prayer each day, one in the morning and one in the evening.

We hope that you enjoy your visit to our website and that you find reason to return soon.
Easter Message
A reflection on St. Joseph for the month of April A tender and loving father
Joseph saw Jesus grow daily "in wisdom and in years and in divine and human favour" (Lk 2:52). As the Lord had done with Israel, so Joseph did with Jesus: he taught him to walk, taking him by the hand; he was for him like a father who raises an infant to his cheeks, bending down to him and feeding him (cf. Hos 11:3-4).
In Joseph, Jesus saw the tender love of God: "As a father has compassion for his children, so the Lord has compassion for those wh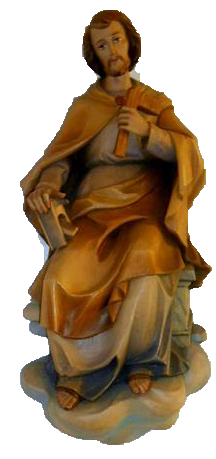 o fear him" (Ps 103:13).
In the synagogue, during the praying of the Psalms, Joseph would surely have heard again and again that the God of Israel is a God of tender love, who is good to all, whose "compassion is over all that he has made" (Ps 145:9). >>> read more
The history of salvation is worked out "in hope against hope" (Rom 4:18), through our weaknesses. All too often, we think that God works only through our better parts, yet most of his plans are realized in and despite our frailty. Thus Saint Paul could say: "To keep me from being too elated, a thorn was given me in the flesh, a messenger of Satan to torment me, to keep me from being too elated. Three times I appealed to the Lord about this, that it would leave me, but he said to me: 'My grace is sufficient for you, for power is made perfect in weakness'" (2 Cor 12:7-9).
Since this is part of the entire economy of salvation, we must learn to look upon our weaknesses with tender mercy.
The evil one makes us see and condemn our frailty, whereas the Spirit brings it to light with tender love. Tenderness is the best way to touch the frailty within us. Pointing fingers and judging others are frequently signs of an inability to accept our own weaknesses, our own frailty. Only tender love will save us from the snares of the accuser (cf. Rev 12:10). That is why it is so important to encounter God's mercy, especially in the Sacrament of Reconciliation, where we experience his truth and tenderness. Paradoxically, the evil one can also speak the truth to us, yet he does so only to condemn us. We know that God's truth does not condemn, but instead welcomes, embraces, sustains and forgives us. That truth always presents itself to us like the merciful father in Jesus' parable (cf. Lk 15:11-32). It comes out to meet us, restores our dignity, sets us back on our feet and rejoices for us, for, as the father says: "This my son was dead and is alive again; he was lost and is found" (v. 24).
Even through Joseph's fears, God's will, his history and his plan were at work. Joseph, then, teaches us that faith in God includes believing that he can work even through our fears, our frailties and our weaknesses. He also teaches us that amid the tempests of life, we must never be afraid to let the Lord steer our course. At times, we want to be in complete control, yet God always sees the bigger picture. (Apostolic Letter Patris Corde of Pope Francis)